Active promotions
Free shipping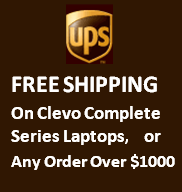 Free UPS ground shipping on orders over $1000 (US 48 states)
Free UPS ground shipping on All Clevo Complete Series Laptops
This is a limited time offer.
3% Cash Discount
To qualify our 3% Cash Discount offer, you need to pay one of the following methods:
1. Bank Wire Transfer or Online Banking eCheck.
2. Personal Check, Money Order and Cashier's Check (No minimum order requirement): It takes about 5-7 days to clear the check. There is a $35 charge to any return check. You can mail your check to:
R&J Technology
3428 Falcon Ridge Rd.
Diamond Bar, CA 91765
Attn: Order Dept.
Complete details about payments will be emailed to you after you submit your order online.
2% Premier Member Discount
RJTECH Premier Member:
2% discount on all orders. This discount will be reflected to the total when you check out. (If combine with cash discount offer, the cash discount will be 2%)
No minimum order.
How to become a Premier Member:
If you have purchased a laptop from us before, you are automatically qualified for RJTECH Premier Member. Simply leave a review of your experience with the purchased product or a review of our company in the following:
Product review: Go to our product page at

https://rjtech.com/shop/index.php?dispatch=categories.view&category_id=189

, and click on the laptop you purchased from us, then you should see the review button on the bottom page, just write down your review. Please note that if you cannot find your laptop model listed, that means your model is discontinued, please proceed to the next step.
Company review: Please go to Resellerratings.com and post your experience with our company.
Send an email to sales@rjtech.com including your account name and order number, and where your comments are posted. We will change your account level to Premier Member after we receive your email. If you have not registered an account with us before, then you need to register an account here.
---
*This program may be excluded with some special promotion deal.
*We reserve the right to terminate this program without notice.